Brownies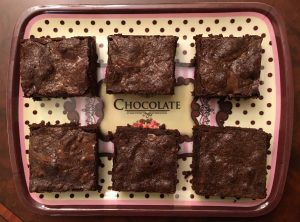 This recipe is adapted from the book 'The Science of Good Cooking' of the 'Cook's Illustrated' series. For a full explanation of why they come out so awesome you can check the book. If you think that keeping them in the freezer will lengthen their life don't bother – they are even better when they are frozen!
Ingredients
2 oz. unsweetened chocolate
4 Tbsp. unsalted margarine
1/3 C. Dutch-processed cocoa
1/2 Tbsp. instant espresso powder
1/2 C. plus 2 Tbsp. boiling water
1/2 C. plus 2 Tbsp. oil
2 large eggs plus 2 large yolks
2 tsp. vanilla extract
2 C. sugar
1 3/4 C. flour
3/4 tsp. salt
6 oz. chocolate chips
Instructions
 Break the chocolate into small pieces and place in a microwave proof bowl together with the margarine. Microwave for 1/2 minute and mix. Repeat until just melted. Do not overheat – the mixture shouldn't bubble.
 Add the cocoa and espresso powder and pour the boiling water in. Whisk until powders are thoroughly mixed in.
 Whisk in the oil, then the eggs, yolks and vanilla extract and then the sugar.
 Mix in the flour and salt with a spatula until combined.
 Mix in the chocolate chips.
 Prepare a 9″∗13″ pan – take a piece of 12″ wide aluminum foil and line the pan with some extra foil draping over the sides. Take another piece and fold it to fit the narrow side of the pan. Place the foil across the first layer with extra foil draping over the sides. Spray with Pam spray. Pour the batter into the pan and bake at 350° for 30-35 minutes until a toothpick inserted into the middle comes out with few crumbs attached.
 Let the pan cool to room temperature then pull out the cake and cut. Store brownies in a tightly covered box.